As we already have told you in the previous months, this year marks the 30th Anniversary for Wilson & Morgan, and we have already been celebrating it in the course of the year with some very interesting commemorative bottlings in our Cask Strength series.
But celebrating is more fun when you are with good company, by sharing a good dram: that's why for this year's 17th edition of Milano Whisky Festival, held at Palazzo delle Stelline in Milan on December 3rd-4th-5th, we will be bringing with us an even more impressive than usual assortment of great whiskies!
And even our usual masterclass had to be something special for such an occasion… We will taste together some of the best bottlings in our current catalogue, probably our best lineup ever: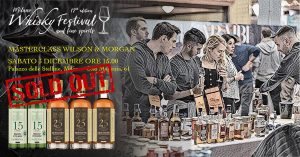 Benrinnes 15yo "30th Anniversary" 56.7% W&M456
Dailuaine 15yo "30th Anniversary" 55.4% W&M458
Linkwood 25yo "Sherry Finish Oloroso" 54.6% W&M438
Bowmore 25yo "Fully matured in Sherry Wood" 48.2% W&M440
Clynelish 25yo "Sherry Finish Oloroso" 48.7% W&M452
As usual… the masterclass (which will be held on Saturday the 3rd) went completely sold out in less than two hours. Wilson & Morgan's masterclasses at MWF are always the first to go… and this year all tickets were sold even faster!
But don't worry: you can still visit our stand at Milano Whisky Festival, and you will find the same bottles (and many more!) open for tasting.
Will you join us for celebrating our 30th Anniversary as it deserves?