Since 1992, Wilson and Morgan has been offering a selection of rare malt whiskies to discerning and sophisticated consumers all over the world.
Choosing only the best malts, matured from eight to fifty years, Wilson and Morgan re-racks some casks for finishing in Sherry, Port or Marsala casks.
All are bottled at peak maturation without chill-filtration or caramel.
Today, Wilson and Morgan has become synonymous with the taste of truly distinguished single malt whisky.
Tailored
The "Tailored" line is targeted at a very specific clientele: luxury whisky bars, hotels, prestigious clubs.
These bottlings will not be released to wine or liquor stores, and will never be made available to the general public: they will be exclusive to selected customers with a high profile, with a different styling also in visual terms compared to our standard lines.
Not only the whisky, but also the labels will be customized with the name of the bar/hotel/club.
Classic Selection
The casks of amber clear whiskies for this fine Barrel Selection 46% are personally chosen by Fabio Rossi, Chairman of Wilson & Morgan, from different distilleries in Scotland.
Rossi selects only the most natural and flavoursome whiskies which have not been chill-filtered, thus avoiding any loss of flavour, and to which no caramel has been added.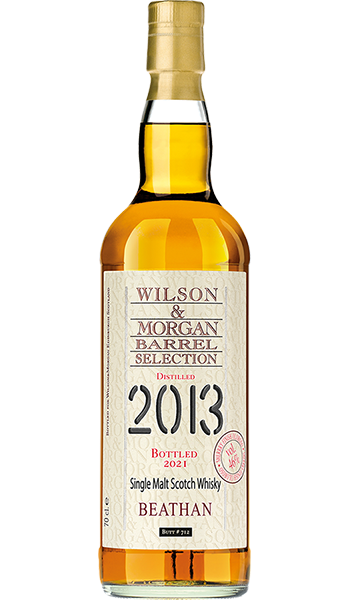 Cask Strength
Wilson & Morgan cask-strength whiskies are taken straight from the cask and are bottled without filtration and dilution to preserve their unique flavour and natural strength: these are not watered down malts for easy-drinking, but "the real stuff".
All whiskies from the Wilson & Morgan Cask-Strength Selection have an individual character, a strong identity.
Special Release
Usually very limited releases, they are often reserved in exclusive for particularly loyal and demanding customers, or to particular countries due to the specific interest of one of our local distributors in a particular style or distillery.
This also means that these bottlings are often thought and designed according to our customers' needs, like a good tailor would do, and we'll do our best to create for them a bottling which matches their taste.
Decanter Collection
The new Decanter Collector's Edition series aims to give recognition to these unique whiskies in the best possible way: a very rare selection of old malts from the most prestigious distilleries, bottled at cask strength and with no filtration, in a particularly stylish presentation with each bottle individually numbered.
When you pick a bottle from the Decanter Collector's Edition as a gift or for yourself, you can be sure that you are choosing the finest of the finest.
House Range
Our House Range is meant to be the first introduction to the world of quality single malts, at an unbeatable price. This selection of bottlings comes from prestigious distilleries in Scotland, providing whisky of comparable quality to the rest of our lineup.
We chose, coherently with our didactic and introductive philosophy, two very contrasting styles for our staple bottlings which are released once or twice each year.