The whisky Tailor
After almost 10 years of activity, at the beginning of the 2000 years, the Wilson & Morgan brand had already gained a respectable following among connoisseurs.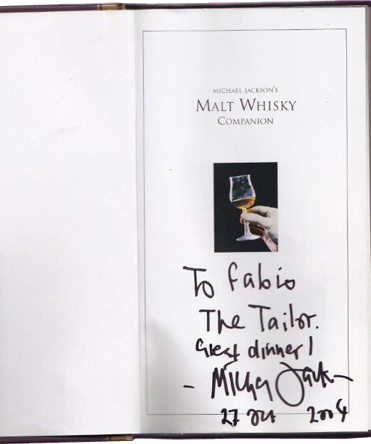 The first releases (result of a joint partnership with Cadenhead) had been exceptional, and the following ones were keeping up a trend of high quality and limited numbers. Following on the steps of legendary Samaroli, another Italian company was taking everyone by surprise thanks to its constant sourcing of rare gems from the most interesting distilleries in Scotland. The understated elegance of the bottles and their interesting quality-to-price ratio were further factors of interest.
In November 2003 I was contacted by Owen, Michael Jackson's secretary. Michael had already tasted some Wilson & Morgan bottlings and was going to include them (with favorable scores) in the next edition of The Malt Whisky Companion. Owen was traveling in northern Italy and was curious to meet me, so I welcomed him and we had dinner together in the hills behind Treviso, the area of Prosecco, at the lovely Locanda da Lino restaurant (Marcello Mastroianni's establishment of choice during his visits to Venice). Owen loved the food and the wine, and we had a great evening… although we actually didn't speak too much of whisky! Anyway, we agreed to meet again next year, and this time with Michael too. Michael came at the end of November, perfect season for the gourmet specialty of "tartufi", the white truffles.
For this visit from such a legendary whisky icon, I organized a dinner with some malt loving friends at Ombre Rosse, an establishment in Treviso which is a holy grail for wine connoisseurs ("Ombre Rosse" is some sort of pun, because it literally means "Red Shadows", it's also the Italian title of John Ford's movie "Stagecoach", but most of all "ombra" in the Venetian slang means "glass of wine").
It was a memorable evening, with "tagliolini al tartufo" and big Piedmontese red wines.
Again, not much whisky talk, but we chatted a lot of music, travels, and the good things of life. Of course at the end of the meal we tasted a couple of new Wilson & Morgan releases: a Bowmore 1989-2003 "Armagnac finish", and then a Longmorn 1990-2002 "Marsala finish" which sparked Michael's interest. It was our first marsala finish ever, something never attempted by other bottlers (but then immediately copied…), with excellent barrels sent to Scotland from Sicily by Marco de Bartoli. Michael loved the whiskies, the unusual and innovative finishes, and also the style of the labels: he said that they were as elegant as my tailored Italian suit.
His comment was "You make whisky like your jacket, you are a tailor", and he signed my copy of The Malt Whisky Companion with the same nickname.
A nickname that I still remember fondly whenever I look again at the photos we have taken on that wonderful evening, and whenever I sip a dram raising the glass in the memory of our favorite whisky writer ever.